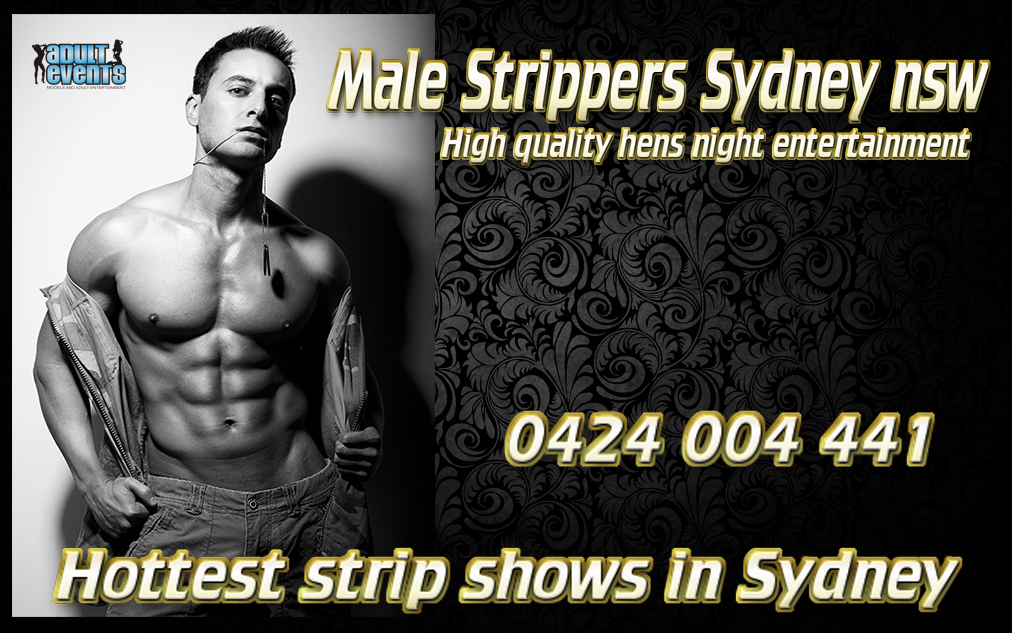 Male strippers Sydney


Are you having a hen's night or having a birthday party and need a hot male stripper? Strippers Sydney nsw can help you. Our male strippers will come to your house, hotel apartment, boat, club or function almost anywhere to put on a strip show to embarrass the hen or birthday girl. The male strippers have shows such as a tame g string strip show this show goes for about 10 to 15 minutes and next up we have the full nude strip show this show goes for about 15 to 20 minutes and we ask if you don't take photos or film it wild our boys are full nude. Our male strippers in Sydney have costumes such as a hot fireman stripper, police man stripper and others by request. Going and booking a male stripper is easy feel free to call us on 0424 004 441 and let us know what type of male stripper you would like come and entertain you and your guest. If you would like to view photos and bios of our male strippers just click on this link www.adultevents.com.au this will send you to another site with everything you can possibly need for male adult entertainment.

Also on the adult events website they have some great hen's party packages to suite everyone at your next event, these packages also include topless waiters for those girls who would like some eye candy for the night as well as a hot male stripper, if you do not see a great package that works well with your party let us know and we can work together over the phone and custom make you a package that works well for everyone at your party. When you're hot male stripper arrives please pay him as soon as you can and then have the hen or birthday girl sitting in the middle of the room blind folded and then the male stripper will give you a cd with a few songs to put on your cd player so he can start his strip show. After the show is over and if you have any spare time we would like to ask that you could send us a text just to let us know how our male strippers performed on the night so we can always provide Sydney with the sexiest male adult entertainment in Sydney by far. Please note we can get you a male stripper at late notice if it is a spare of the moment thing but is would be a great idea if you would book 2 to 3 weeks in advance so we can make sure we get you the male stripper you like the most on the website.
CLICK ON OUR HUNKY MALE STRIPPERS PHOTOS TO SEE THEIR THERE BIO'S AND RATES
CLICK ON OUR HUNKY MALE STRIPPERS PHOTOS TO SEE THEIR THERE BIO'S AND RATES
ENQURIES 0424 004 441
WE CAN GET YOU A STRIPPER, WAITRESS OR WAITER AT LATE NOTICE BUT IT WOULD BE A GOOD IDEA TO BOOK IN ADVANCE SO YOU GET THE STRIPPER YOU AND YOUR GUESTS LIKE THE MOST AT YOUR NEXT EVENT.
HOME | R RATED STRIPPERS | X RATED STRIPPERS | TOPLESS WAITRESSES | LINGERIE WAITRESSES | TOPLESS WAITERS | MALE STRIPPERS
All content copyright © Strippers Sydney nsw 2010